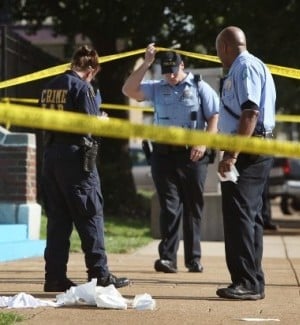 Crime Scene Technician Jamie Hull (left) and other St. Louis police officers investigate a shooting near the intersection of North Kingshighway Boulevard and Minerva Avenue in St. Louis on July 5, 2011. (Erik Lunsford | elunsford@post-dispatch.com)

ST. LOUIS
• It began in Lafayette Square and has spread to the neighborhoods of Dutchtown and Bevo Mill and North Pointe.
Now residents in the Greater Ville are mobilizing, as are those in Hyde Park, Penrose, O'Fallon and Shaw.
What started as one St. Louis neighborhood's desire to fight burgeoning crime has turned into a citywide model now touted by the mayor, police chief and circuit attorney.
Pointing to the success of the first set of proactive neighborhood programs, city officials are trying to motivate others across St. Louis to join in, hoping to build a wave of grass-roots movements that will help drive down crime across the city block by block.
"Neighborhoods are fed up with what's happening and what's been happening for a long time," said Michael Petetit, chairman of the Lafayette Square group who helped create the template now being used for forming other neighborhood groups. "Residents are glad to be done sitting on the sidelines."
The goal is to get most of the city's neighborhoods on board with what is dubbed the Neighborhood Ownership Model, where residents take part in citizen patrols, attend court hearings to advocate for neighborhood victims and work hand in hand with prosecutors, aldermen and police, including an officer specifically designated as a community liaison.
"I've been doing this a long time, and I've not seen anything this effective," St. Louis Circuit Attorney Jennifer Joyce said.
Existing neighborhood group participants and city leaders will explain what it takes to launch a program and try to get more residents involved at a meeting at 6 tonight at Bishop Willie Ellis Hall, 5939 Goodfellow Boulevard. People interested in starting a program in their neighborhood are invited to attend.
OFFICIALS LAUD MOVEMENT
Although city officials are trumpeting the benefits of the model, residents and city leaders say the program works because the residents start and run the programs.
"It's an organic thing, it comes from the neighborhoods," Joyce said. "This is not a Jennifer Joyce thing, it's not a Chief (Dan) Isom thing, it's not a Mayor (Francis) Slay thing. This is created by citizens, organized by citizens, and they started it. It's their model."
In Lafayette Square, where the program was launched about two years ago, the community involvement has been credited with helping lower the area's crime rate. In Dutchtown, residents fed up with a rash of burglaries emerged from the shadows after two murders earlier this year to form their group, working with police to target derelict properties and problem tenants. While the neighborhood has not had any murders through the end of summer, it is still struggling to contain burglaries, robberies and auto theft.
Buoyed by the enthusiasm the program model has received from residents and city officials alike, Petetit has been spreading the word about the initiative at neighborhood gatherings across the city for months.
The effort is now moving north. A few months ago, Tommy Simril helped motivate some of his neighbors in the North Pointe community, an area that borders the city limit of Jennings between West Florissant Avenue and Riverview Boulevard.
About eight residents have been trained on the citizen patrols, several have joined the court victims advocate team, and the Police Department has assigned a dedicated community liaison officer to specifically tackle issues of importance to residents.
On citizen patrols, residents drive the neighborhood, noting troublesome areas, littered alleys, broken streetlights or gatherings of people not known to live in the area.
"A lot of the things we do as citizens will impact how we live," Simril said. "We're getting them to help themselves, instead of depending on the police."
Simril, 57, has lived on Floy Avenue for 29 years, raising a daughter there and pouring money into remodeling his home.
"This is where we're planted," he said.
In 2010, seven murders were committed in North Pointe, tied for second most in the city, behind the Fairground neighborhood. So far this year, there has been only one. Still, the neighborhood is on track for about the same number of violent crimes, including robberies and aggravated assaults.
But since June, when North Pointe started its efforts, Simril has noticed less litter in alleys, and residents are working with police to target a rash of home burglaries.
"Our quality of life has turned around quite a bit," Simril said.
People also are becoming involved in the Penrose and O'Fallon neighborhoods. Earlier this summer, after an elderly woman's air conditioner was stolen in that area and a suspect was arrested in the crime, the victim and several of her neighbors attended the man's bail hearing, Joyce said. The residents all wore yellow T-shirts in the courtroom. The suspect's bail not only was not reduced, Joyce said, the judge tripled it.
"We're holding criminals accountable and empowering citizens," Joyce said. "And I believe it deters future crime because I think criminals are realizing the neighborhoods where residents are standing up against them."